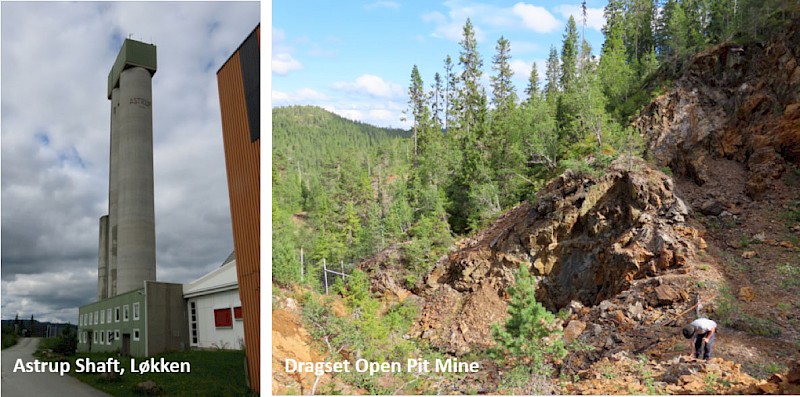 The Company's Løkken copper-rich massive sulfide ("VMS") project is located approximately 50km SW of the regional centre of Trondheim in central Norway. The Løkken claim block covers a total area of 210 square kilometres (21,000 Ha) in and around the former Løkken underground mine (which closed in 1987 in response to low metals prices), the associated historical mineral processing facilities, plus multiple satellite bodies of mineralization with varying degrees of development. Løkken is considered to be one of the largest ophiolite-hosted Cypress-type VMS deposits (by tonnage) to have been developed in the world and produced around 24Mt @ 2.3% Cu and 1.8% Zn (plus silver and gold credits)1. Historical records also suggest incomplete extraction of all high-grade copper-zinc blocks in the underground mining operation.
Significant mining-related infrastructure remains in the Løkken area, including an operating shaft (Astrup), former concentrator and processing facilities, an electrified and operational narrow-gauge railway (which joins the old mine to the deep water port at Orkanger, located 25km away), low-cost hydroelectric power, and first-class road and telecommunications networks.
Project Snapshot
Location
50 km S of Trondheim, Norway
Ownership
100% Capella Minerals Ltd
2.5% NSR to EMX Royalty, with 0.5% purchasable for USD 1M.
Status
Near-mine and greenfields exploration
Deposit type
High-grade copper-rich VMS deposits
Property Size
21,000 Ha / 210 sq. km.
Host Rocks
Ophiolite sequence
Age
Ordovician
Commodities
Copper, Zinc, Silver, Gold
Access
All weather paved highways and gravel roads
Løkken - Regional Setting
The Løkken and Røros (Kjøli) massive sulfide ("VMS") districts in central Norway lie within the so-called Caledonian orogeny, which is interpreted to have extended from the productive VMS districts in NE Canada (Bathurst Mining Camp, New Brunswick; Buchans District, Newfoundland) and the Appalachian US to northern Norway. Mineralization at Løkken is hosted by a sequence of Ordovician-age metabasalts (mixed pillow and massive basalts) within an overturned ophiolite sequence.


Location of the Løkken deposit with the Caledonian orogeny and mine-scale geology
The former Løkken Mine consisted of a stratiform massive sulfide deposit which was approximately 4km in length, reached a maximum depth of 1km, and had an average thickness of 60m1. Mineralization consisted of massive chalcopyrite, sphalerite, pyrite, and pyrrhotite. Capella's field activities at Løkken will focus on i) fine-tuning drill targets in and around the former Løkken mining operations, and ii) advancing the five priority regional targets currently identified (Western Targets, Dragset, Hoydal, Eastern Targets, Southern Targets) to drilling.
Løkken Claim Block and Priority Exploration Targets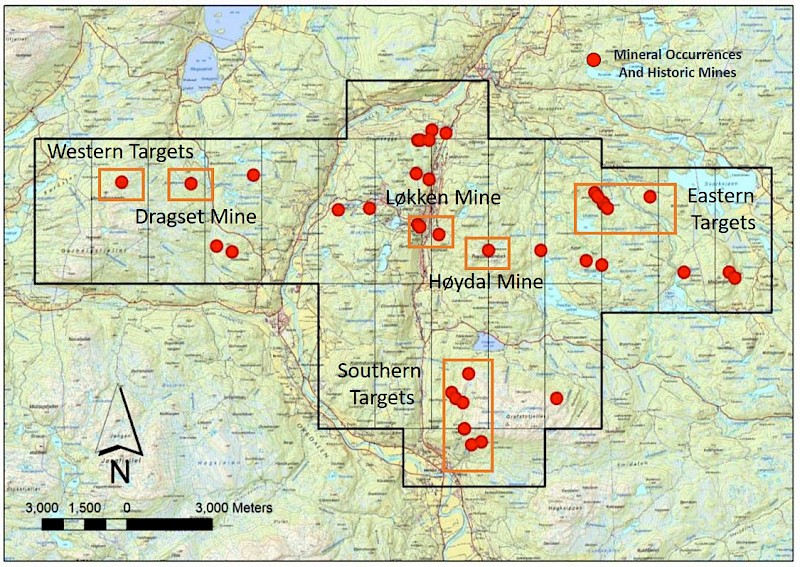 Løkken claim block and priority exploration targets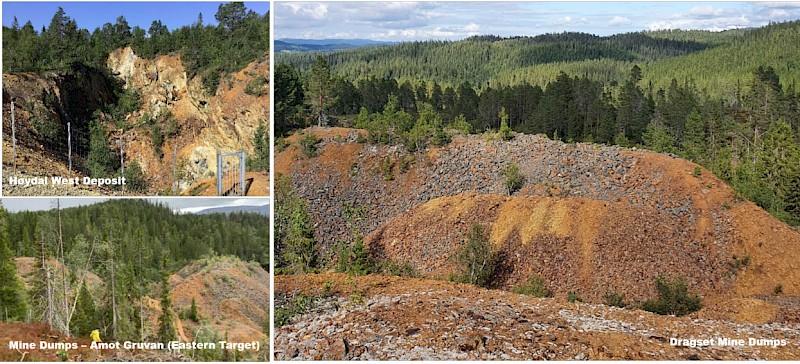 VMS targets on the Løkken claim block – Dragset, Hoydal, Amot Gruvan (Eastern Target)
2020/2021 Work Program
In addition to seeking extensions to the known Løkken mineralization, the Company's near-term exploration focus will be on 5 priority VMS targets which have been delineated along-strike from Løkken and elsewhere within the 210 square kilometre property. Field work to be undertaken includes the completion of ground magnetic and soil geochemical surveys over key regional target areas, commencing with the Dragset target. In parallel, efforts to obtain and reprocess existing regional airborne electromagnetic datasets (key for modelling buried massive sulfide mineralization), together with the digitizing of former underground mine plans for Løkken, are in progress. The Company expects to be able to continue undertaking field activities at Løkken until the arrival of winter snows (likely late November), with the permitting of drill targets expected to be undertaken immediately thereafter.
1 Historic production values quoted above are from Grenne et al. 1999. Capella and EMX have not performed sufficient work to verify the published data reported above, but both Companies believe this information is considered reliable and relevant. (Mineralium Deposita 34, 422–471)
Historical Photographs – Former Løkken Mining Operations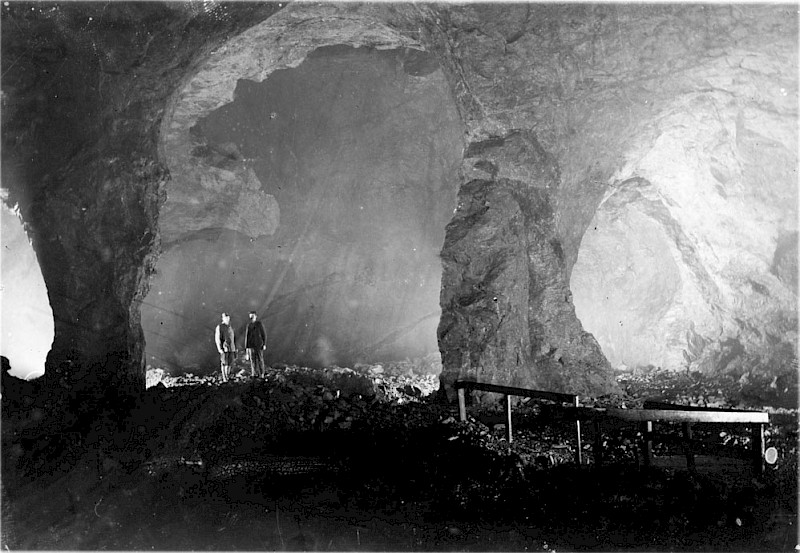 Open stope in Løkken underground operations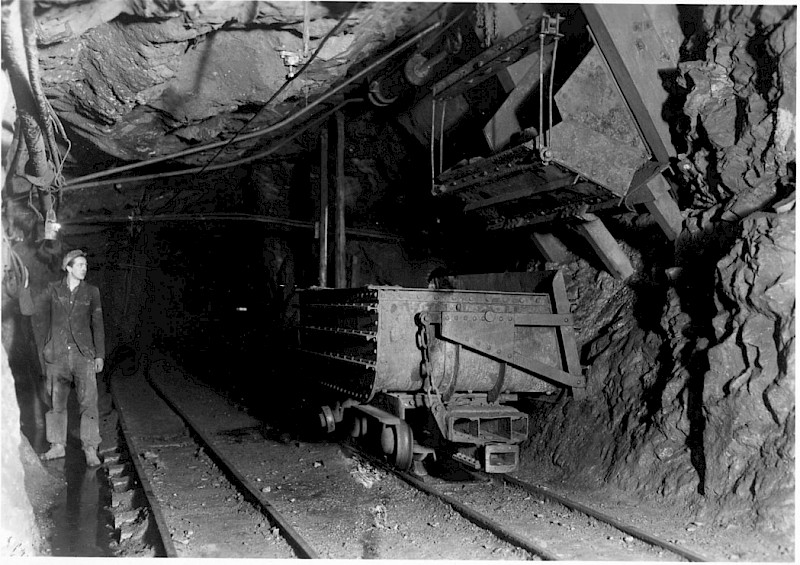 Haulage cart in old Løkken mine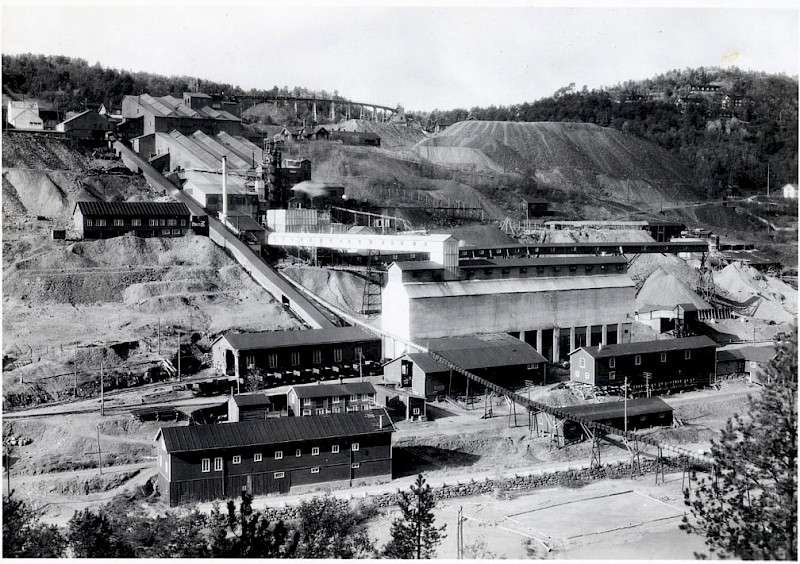 Former processing facilities at Løkken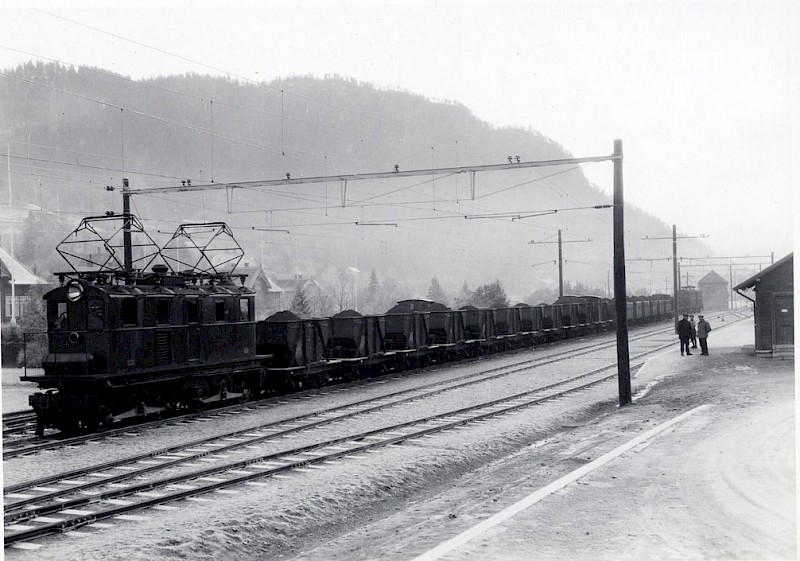 Electrified railway joining Løkken with the deepwater port at Orkanger