The Company's Southern Gold Line project is located 100 km WSW of the regional administrative centre of Skelleftea in north-central Sweden, and consists of 500 square kilometres (50,000ha) of mineral claims located in the immediate vicinity of Dragon Mining Ltd's Fäboliden development project and Svartliden gold mine1. Further to the north of Svartliden lies Agnico Eagle/Barsele Minerals's Barsele gold deposit (0.3Moz Au Indicated Resource and 2Moz Au Inferred Resource; Source - Barsele Minerals Inc. NI 43-101 Mineral Resource Estimate dated February 21, 2019).
The Southern Gold Line exploration concessions cover areas with similar geologic and structural settings to known gold deposits within the broader Gold Line belt (orogenic gold deposits located at, or near, granitoid-greenstone contacts). Host rocks to the gold mineralization are Paleoproterozoic in age.
Reconnaissance sampling and mapping programs are underway over the entire claim block, with the initial Bulk Leach Extractable Gold ("BLEG") samples having been collected across portions of the licenses showing multiple areas with enrichment of gold in stream sediments. Planning for "bottom of till / top of bedrock" auger drilling in the highly prospective southern Rötjärnen claim - where gold mineralized boulder trains have been identified on surface - is ongoing. Permitting for the auger drilling at Rötjärnen is underway, with drilling expected to begin during Q1, 2021.
Project Snapshot
Location
100 km WSW of Skelleftea, Sweden
Ownership
Capella Minerals Ltd (100%)
2.5% NSR to EMX Royalty, with 0.5% purchasable for USD 1M.
Status
Early-stage exploration
Deposit types
High-grade orogenic gold deposits
Property Size
50,000 Ha / 500 sq. km.
Host Rocks
Meta-volcanic/sedimentary sequences near granitoid contacts
Age
Paleoproterozoic
Commodities
Gold
Access
All weather paved highways and gravel roads
Southern Gold Line Project - Location and Regional Geology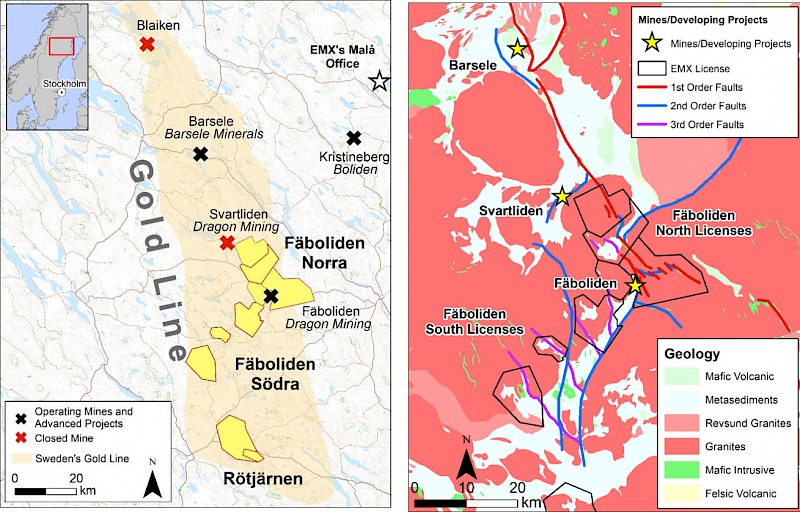 Location and general geology of the Southern Gold Line Project


Boulder field with gold-mineralized boulder trains - Rötjärnen claim
2021 Work Program
Planning and permitting is currently underway for a "bottom of till/top of bedrock" auger drill program on the highly-prospective Rötjärnen claim at Southern Gold Line, where locating the source(s) of gold-mineralized boulder trains remains a high priority. This auger drill program is expected to begin during Q1, 2021, with the primary goal being to identify vectors to bedrock gold sources lying "uphill" beneath thin till cover.
In parallel, the low-cost regional BLEG sampling program will resume on the 50,000 Ha property in spring.
1 References made to nearby mines and analogous deposits provide context for the Southern Gold Line project but are not necessarily indicative that the project hosts similar tonnages or grades of gold mineralization.