The Company's Kjøli copper-rich massive sulfide ("VMS") project represents a district-scale land position in the northern part of the Røros copper mining district, central Norway. The Røros district saw production from a number of high-grade VMS deposits from the mid-1600's until their closure in the mid-1980's due to low copper prices. The Kjøli project covers the former Kjøli and Killingdal copper mining operations, together with approximately 20 km strike of underexplored but highly-prospective stratigraphy for the discovery of new copper-rich VMS deposits.
Capella has now received all results from its Summer/Autumn 2021 exploration work program on the Kjøli property (which included a gravity survey and systematic soil sampling) and is now focused on obtaining drill permits for 8 of the highest-priority VMS targets identified to date.
Project Snapshot
Location
85km SE of Trondheim, central Norway
Ownership
100% Capella Minerals Ltd
2.5% NSR to EMX Royalty, with 0.5% purchasable for USD1M
Status
Brownfields and greenfields exploration
Deposit types
High-grade copper-rich VMS deposits
Property Size
24,600 Ha / 246 sq. km.
Host Rocks
Meta-volcanic and sedimentary sequences
Age
Cambro-Silurian, Ordovician orogeny
Main Economic Elements
Copper, Zinc, Silver, Gold
Access
All weather paved highways and gravel roads
The Kjøli property is favourably located adjacent to the main Trondheim-Røros highway and railway line. The Nesjodammen hydroelectric plant is also located approximately 10km to the NE.
Kjøli Project Update
The Kjøli project is currently at the drill permitting stage. Initial drill targeting was completed using CARDS AI Data Mining technology (see Company News Release dated May 10, 2021), in which existing geological, geological, and geophysical datasets were combined to identify those areas with similar "signatures" to those associated with known high-grade copper-zinc VMS deposits in the district. A total of 26 copper-zinc targets were identified from the CARDS AI analysis.
The Summer/Fall 2021 exploration program was designed to further prioritize target areas through the completion of a ground gravity survey (the first time this method has been applied in the Norwegian VMS fields, in spite of its proven effectiveness in exploration for VMS deposits globally) and further systematic soil sampling (2,800 samples collected and analyzed).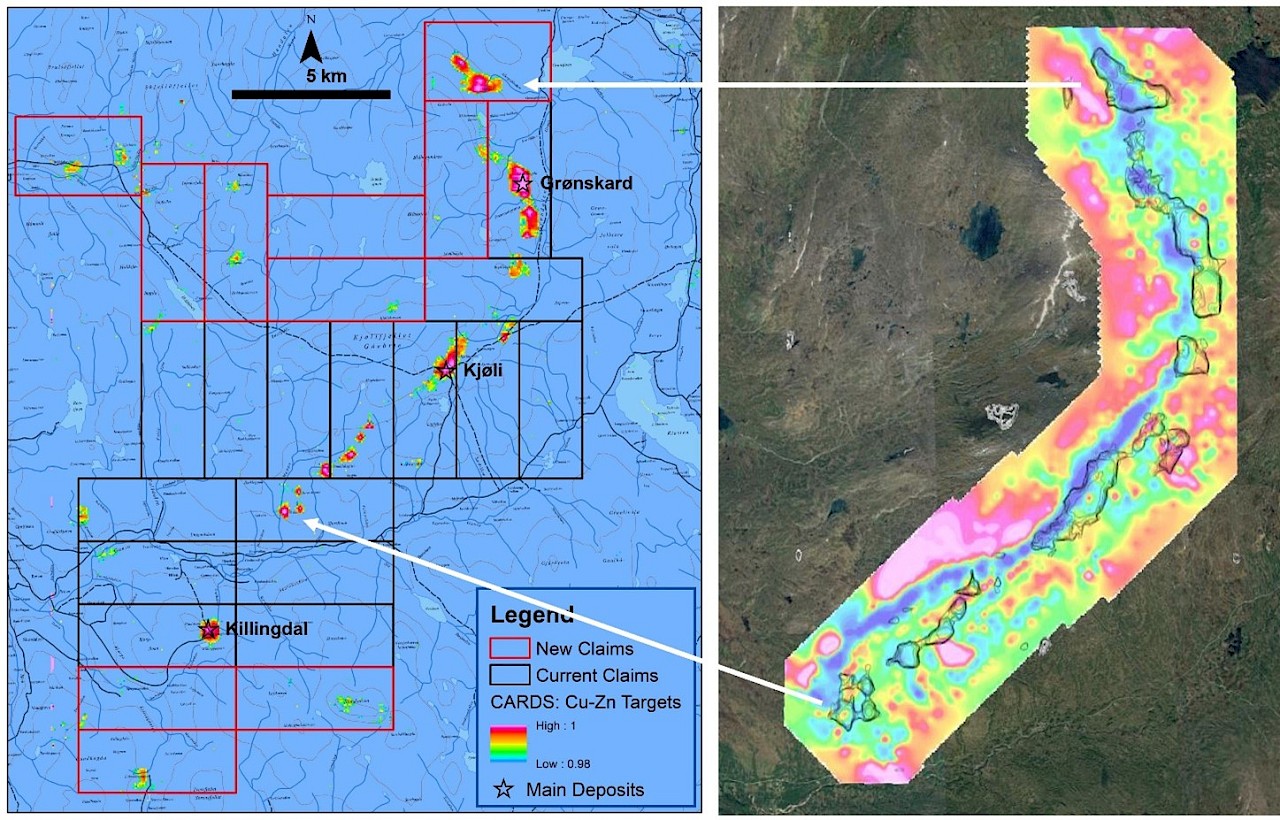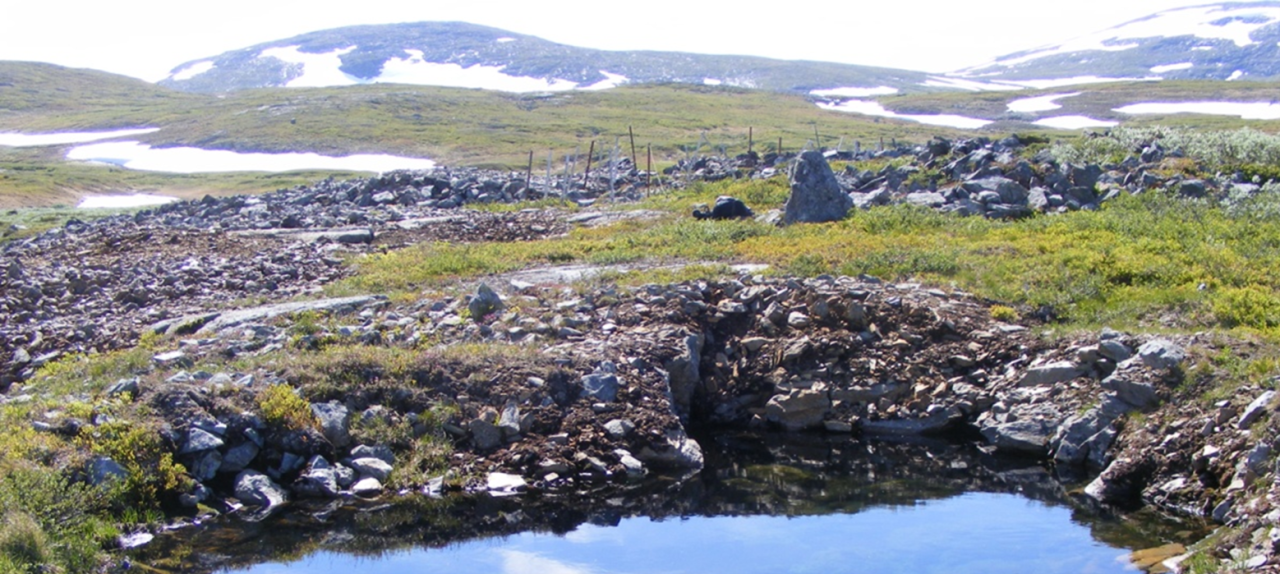 Highlights of the Summer/Autumn 2021 exploration program included:
Targeting for the Company's maiden core drill program at the Kjøli copper project was focused on the 20km-long corridor of prospective stratigraphy for the discovery of new VMS deposits. At least 8 high-priority targets (defined by coincident CARDS AI, gravity, and soil anomalies, plus known mineral occurrences) have been defined for drill testing.
The ground gravity survey covered an area of 68 square kilometres and was located along, and immediately adjacent to, the main Kjøli mineralized corridor. The gravity survey has successfully identified a series of buried high-density bodies (some of which are interpreted by the Company to represent VMS occurrences) in the vicinity of the former copper-zinc mining operations.
2,800 soil samples were collected from the Kjøli mineralized corridor and analyzed using Multi-Element Fine Fraction Analysis ("MEFFA") techniques. Discrete copper and zinc soil anomalies have been generated along the Kjøli mineralized corridor, with the largest soil anomalies being located in the Grønskard area.
The cobalt (Co) content of the copper-zinc(-gold-silver) massive sulfide deposits at Kjøli will also be systematically evaluated going forward. Cobalt is a common secondary metal in VMS deposits of the broader Røros district, but has yet to be systematically analyzed for at Kjøli. Cobalt is a key green energy metal used in batteries / electric vehicles.
Priority targets identified for drilling are those where gravity anomalies (which are interpreted to represent buried, high-density bodies such as either VMS occurrences or mafic intrusions) coincide with CARDS AI anomalies, which are defined mainly by Electromagnetic ("EM"), magnetic and radiometric data (and which are interpreted to represent conductive bodies such as massive sulfides). Furthermore, targets with elevated soil copper and zinc values above coincident gravity and CARDS AI anomalies represent Priority 1 drill targets for the Company.
2022 Work Program
The Company is now in a position to push forward with permitting for its maiden core drill program at Kjøli. After discussions with local authorities, the Company has agreed to apply for drill permits with a starting date no earlier than February, 2022. Initial permitting is expected to cover up to 5,000m of core drilling in 25 holes.