The Company's Kjøli copper-rich massive sulfide ("VMS") project represents a district-scale land position in the northern part of the Røros copper mining district, central Norway. The Røros district saw production from a number of high-grade VMS deposits from the mid-1600's until their closure in the mid-1980's due to low copper prices. The Kjøli project covers the former Kjøli and Killingdal copper mining operations, together with approximately 20 km strike of underexplored but highly-prospective stratigraphy for the discovery of new copper-rich VMS deposits.
Previous work at Kjøli has included field mapping and a government (NGU) sponsored airborne geophysical survey designed to incentivize mineral exploration activities in the district. Field work and data reviews completed since then have included:
Drill target definition in late-2020 within a 4.5 km-long segment of the 20 km of prospective strike for copper-rich VMS deposits using a combination of detailed ground magnetics and a trial ionic leach geochemical survey. This 4.5km-long segment contains 4 known (and previously undrilled) occurrences of high-grade copper mineralization: Svenskmenna, Rorosmenna, Guldal Mine, and Godthap.
In early-2021, a CARDS Artificial Intelligence (AI) and Data Mining analysis was performed by Windfalls Geotek. This study utilized all existing geological, geophysical, and geochemical data in the Kjøli database to "calibrate" the signature of known high-grade copper-zinc occurrences in the district and applying these criteria across the entre property. This analysis successfully identified a total of 13 high-grade copper-zinc targets within the existing Kjøli property, plus a further 11 copper-zinc targets located immediately adjacent. The staking of new exploration claims to cover the 11 external targets was announced on May 10, 2021.
The original 120 square kilometer Kjøli claim block as acquired from EMX Royalty Corp. (NYSE:EMX; TSXV:EMX) in Q3, 2020 has since been expanded to 246 square kilometres to cover previously unexplored occurrences of copper-rich VMS mineralization. These represent additional targets for Capella to bring to drill ready status during the 2021 summer field season.
Project Snapshot
Location
85km SE of Trondheim, central Norway
Ownership

100% Capella Minerals Ltd

2.5% NSR to EMX Royalty, with 0.5% purchasable for USD1M
Status
Brownfields and greenfields exploration
Deposit types
High-grade copper-rich VMS deposits
Property Size
24,600 Ha / 246 sq. km.
Host Rocks
Meta-volcanic and sedimentary sequences
Age
Cambro-Silurian, Ordovician orogeny
Main Economic Elements
Copper, Zinc, Silver, Gold
Access
All weather paved highways and gravel roads
The Kjøli property is favourably located adjacent to the main Trondheim-Røros highway and railway line. The Nesjodammen hydroelectric plant is also located approximately 10km to the NE.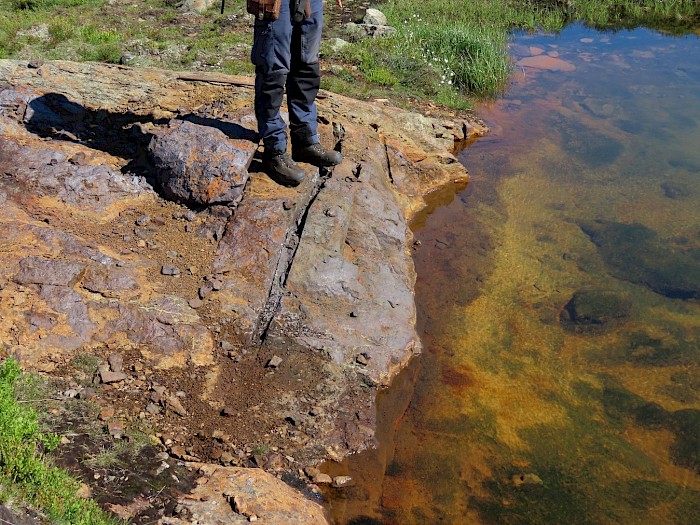 Kjøli Project Area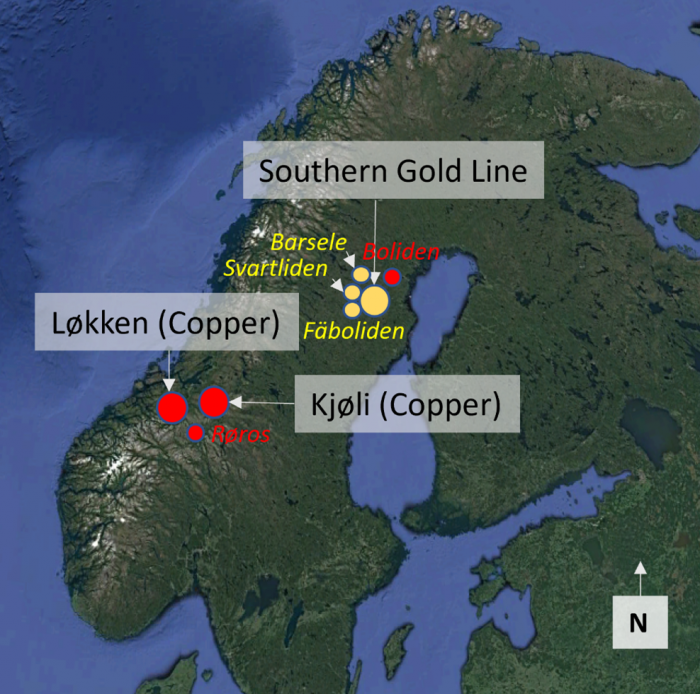 Summer 2021 Work Program
Field activities are currently focused on the definition of specific drill locations within the 14 CARDS AI targets identified along strike from the former Kjøli copper mine.
Final drill targeting at Kjøli will be undertaken using a combination of geochemical (Ionic Leach) and geophysical (ground gravity and drone magnetic survey) techniques with demonstrated effectiveness in the discovery of copper-rich VMS deposits. The initial focus will be on the 4 largest CARDS AI targets, each measuring 2+km in length, located immediately adjacent to, and to the NE of, the former Kjøli mine.
A systematic Ionic Leach soil sampling program will be undertaken over the main CARDS AI targets with the objective of detecting geochemical anomalies associated with buried high-grade base metal mineralization.
In parallel, a systematic ground gravity survey will be completed with the objective of differentiating higher density units (such as copper-rich massive sulfide deposits) from their host rocks. This will be the first time that the ground gravity geophysical technique has been employed at Kjøli.
A high-resolution drone magnetic survey will also be completed over the 20 km-long "prospective horizon" with the highest potential for copper-rich VMS discoveries. The survey has been designed to highlight the sulfide mineral pyrrhotite, which is intimately associated with the high-grade copper-zinc mineralization at Kjøli.
Formal drill permitting for priority drill locations will be initiated as soon as results from the current work program have been received and evaluated.