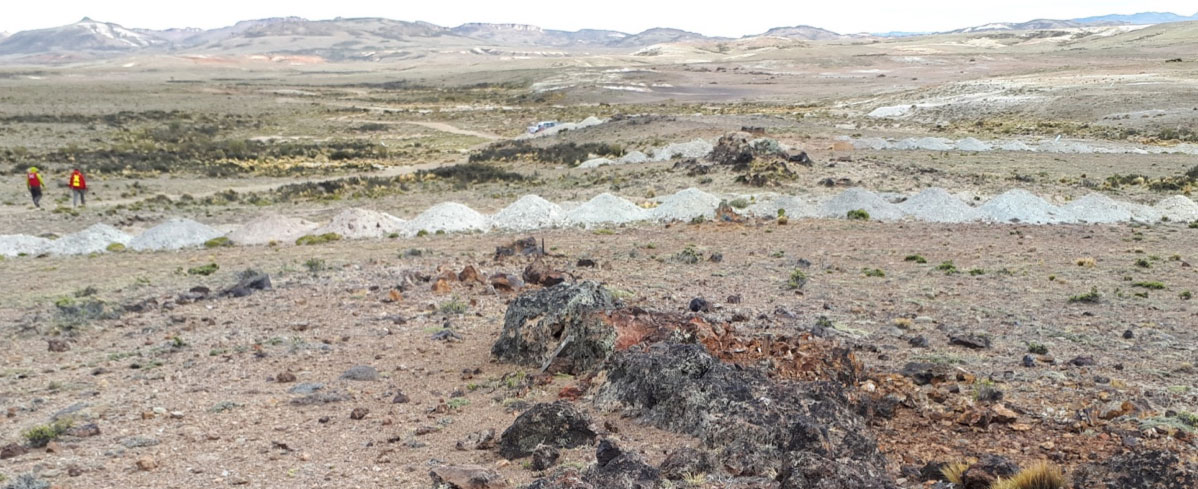 The Sierra Blanca epithermal gold-silver project lies 40km NW of AngloGold Ashanti's Cerro Vanguardia gold-silver mine in the prolific Deseado Massif of Santa Cruz Province, southern Argentina (Figure 1). World-class gold-silver deposits in the Deseado Massif include both the Cerro Vanguardia mine and Newmont's Cerro Negro mine.
The Sierra Blanca project consists of a series of NW- and E-W-trending low to intermediate sulfidation epithermal gold-silver veins/breccias. Previous work at Sierra Blanca has been focused on the E-W-trending Chala-Achen and Lucila vein systems (Figure 2), where high-grade silver values had been derived from surface channel sampling (including 9.4m @ 2,362 g/t Ag at Chala-Achen; see Company News Release dated March 4, 2019).
Capella announced the signing of a divestiture agreement with Austral Gold Limited ("Austral") (ASX: AGD; TSX-V: AGLD) in 2020 through which Austral obtained the right to acquire an initial 80% interest in the Sierra Blanca project for a total of USD 800,000 in cash and work commitments, with a "follow-on" option to purchase the remaining 20% interest for additional cash payments and work commitments. Austral is 100% owner of the Pingüino project, which flanks the Sierra Blanca project to the east.
On September 15, 2022, Capella was advised by Austral that it had successfully completed its minimum Year 2 exploration expenditure (USD 200,000) at Sierra Blanca. Austral is now required to invest a further USD 400,000 (including a minimum of 2,000m of drilling) during Year 3 in order to increase its direct ownership in Sierra Blanca from 51% to 80%.
Project Snapshot
Location
40km NW of Cerro Vanguardia Mine, Santa Cruz Province, Argentina
Ownership
Austral Gold Ltd 51% and earning-in to 80%; follow-on option to acquire remaining 20%.
2% NSR to Sandstorm Gold Inc (with option to buyback 1% for CAD 1M),
1.5% NSR to Iamgold Corp (with option to buyback 0.75% for CAD 750K)
Status
Exploration stage, drill ready
Deposit types
Low to intermediate sulfidation epithermal veins/breccias
Property Size
7,000 hectares (70 square kilometres)
Host Rocks
Sedimentary and volcaniclastic rocks, plus ignimbrites
Age
Jurassic
Commodities
Gold & silver
Access
All weather road gravel roads
Location Map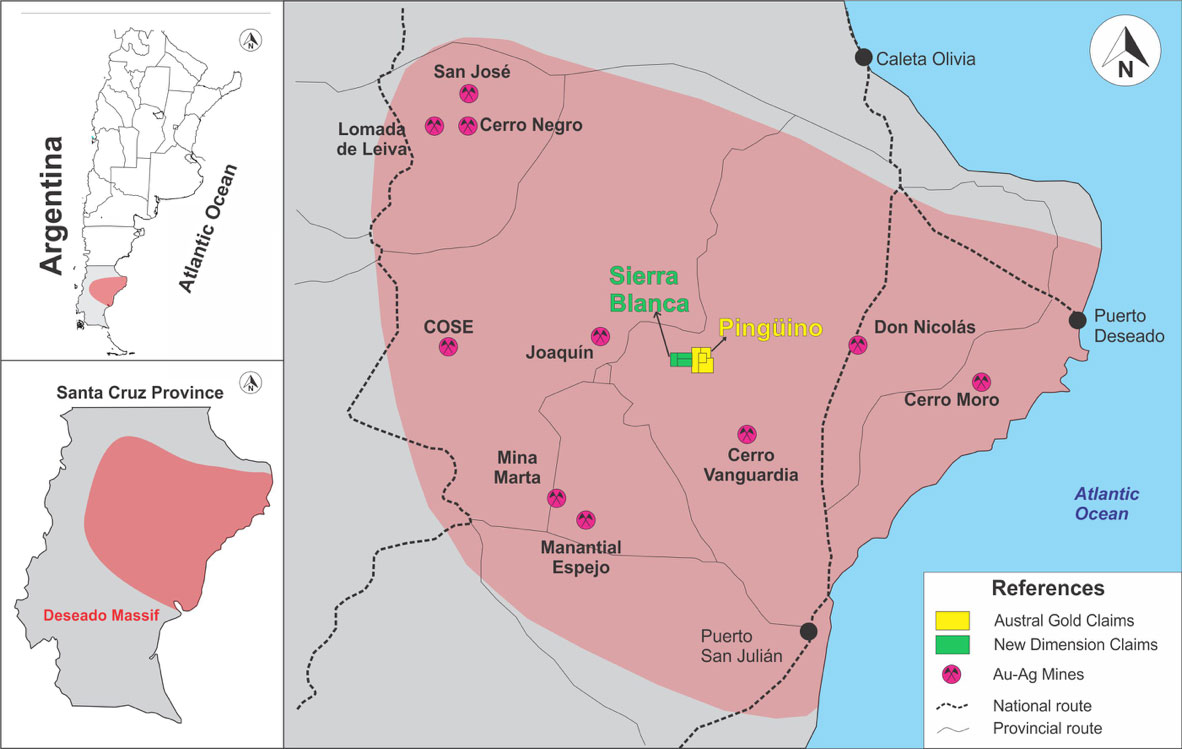 Project-Scale Geology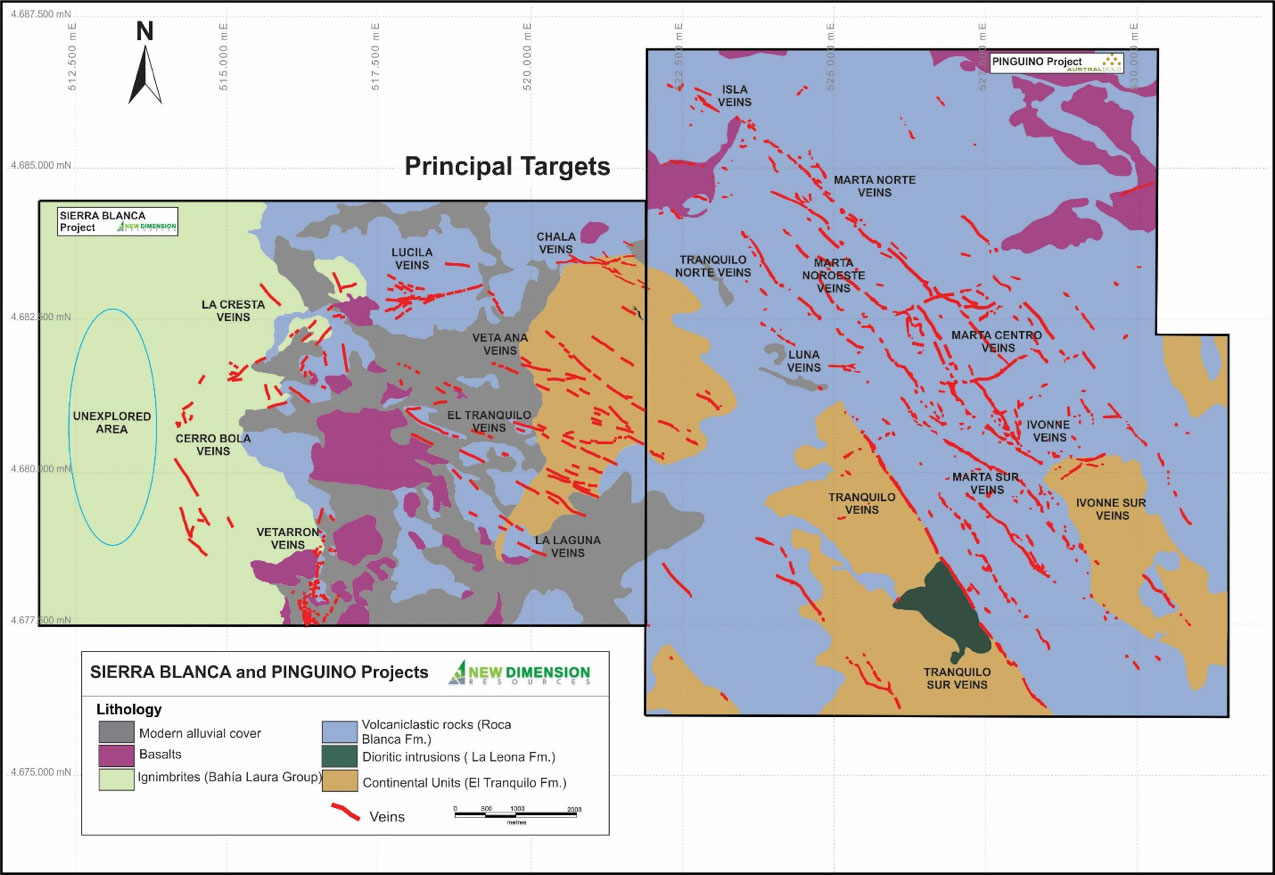 Terms of the Austral Agreement
Austral has agreed to acquire the first 80% interest in the Argentine subsidiary that owns the Sierra Blanca project (Sierra Blanca S.A.) in two tranches through a combination of cash payments and project-level work commitments as follows:
Tranche 1: As of September, 2021, Austral had earned an initial 51% interest in Sierra Blanca through the successful completion of US$100,000 in cash payments to Capella Minerals and the expenditure of US$100,000 in work commitments during the first 12-month period following closing.
Tranche 2: Austral may acquire an additional 29% interest in Sierra Blanca for US$600,000 in work commitments over the second and third years following closing (US$200,000 during the second year and US$400,000 during the third year). On September 15, 2022, Austral advised that it had completed its minimum Year 2 exploration expenditure commitment.
Austral has also agreed to pay up to US$10,000 per year towards the cost of maintaining the Sierra Blanca mining properties in good standing over the three-year term.
Austral also retains an option to acquire the remaining 20% in Sierra Blanca through additional staged cash payments and work commitments during Years 4 and 5 of the earn-in agreement (see Company News Release dated April 1, 2020, and notes in the May 31 2022 Annual Financial Statements).
Austral has the option to accelerate these earn-in commitments at their discretion.
September 2022 Update
On September 15, 2022, the Company was advised that Austral had successfully completed the minimum Year 2 investment of USD 200,000 at Sierra Blanca. In order to reach an 80% interest in Sierra Blanca from its current 51%, Austral will now be required to invest a further USD 400,000 by September, 2023 (Year 3). The Year 3 work commitment also includes a minimum 2,000m of diamond drilling at Sierra Blanca.